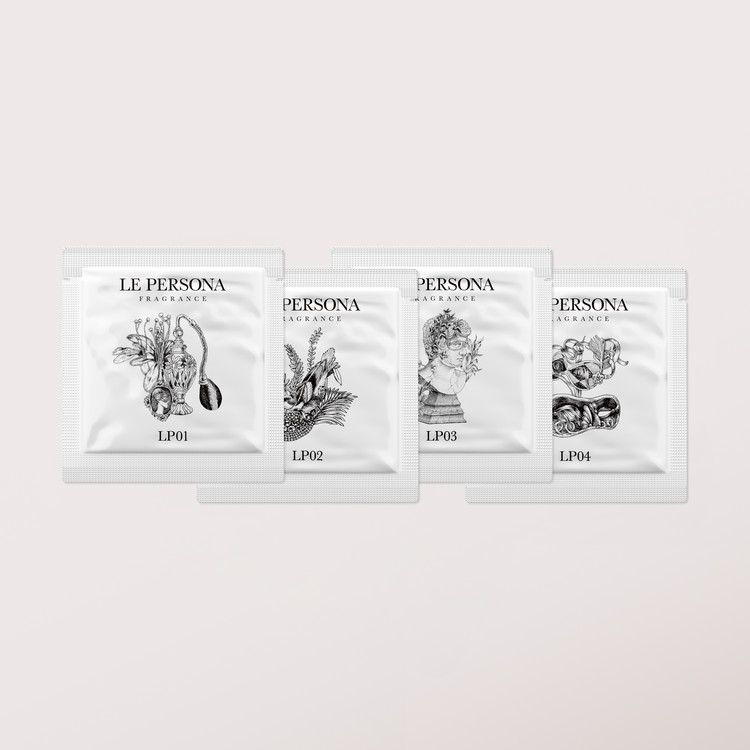 Sample Kit | 4 Scents Experience
---
Meet the sample kit that could experience 4 scents of Le Persona. An illustration postcard will be sent together.
르페르소나의 4가지 향을 모두 경험할 수 있는 샘플 키트를 만나보세요. 일러스트 엽서 1종을 함께 보내드립니다.
---
LP01 Mystic Rose
Top : White Peony, Centifolia Rose, Black Pepper
Mid : Jasmine, Golden Amber, Black Tea Vanilla
Bottom : Cedar Wood, Incense, Musk, Patchouli
LP02 Peacock Feather
Top : Lime, Bergamot, Lemon
Mid : Lavender, White Flower, Jasmine
Bottom : Coconut, Patchouli, Amber
LP03 Wooden Face
Top : Green Tea, Cardamom, Orange
Mid : Fig, Sweet Pea, Jasmine
Bottom : Musk, Sandal Wood, Cashmere Wood
LP04 Golden Gem
Top : Bergamot, Cardamom Oil Guatemala, Rose
Mid : Cedar Wood, Vanilla, Fire
Bottom : Guaiac Wood, Vetiver, Patchouli
배송 안내
1. 배송기간 : 2~5일 (CJ대한통운)
2. 배송비용 : 조건부 무료배송 (3만원 이상)
※ Blotter Card는 교환 또는 환불이 불가한 상품입니다.
※ 파우치 개봉 시 내용물이 흐르지 않도록 주의 바랍니다.